Best Fishing Places in Pakistan: Top 22 Fishing Spots
admingnt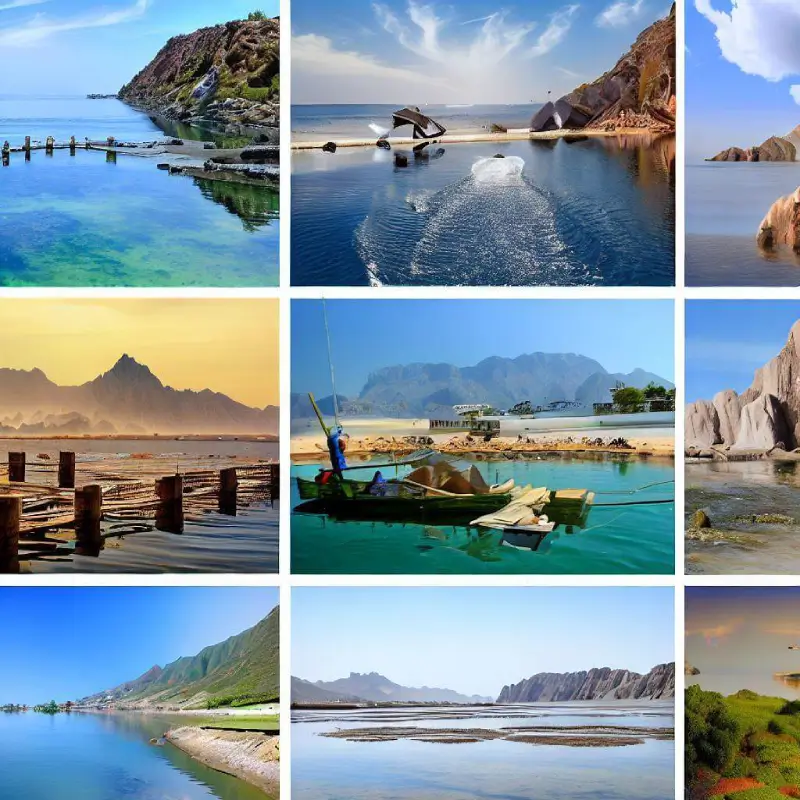 Whether you're a seasoned angler or simply seeking a relaxing way to spend your time. Pakistan has a wide variety of fishing places that promise magnificent scenery and great catches. From peaceful lakes to wild rivers, the country has some of the top fishing spots in the area.
In this post, we'll look at the best fishing places in Pakistan. Each of these offers a distinct fishing experience you won't want to miss. Best fishing equipment gare and accessories in Pakistan 
Introduction:
The unique geography of Pakistan offers a wide range of fishing options, whether you enjoy freshwater or saltwater fishing. The lakes, rivers, and coastal areas of the nation provide a paradise for both recreational and professional fishermen.
Best Fishing Places in Pakistan: 
Now let's explore some of the best fishing spots in Pakistan, each offering its unique charm and hunting opportunities:
1 – Indus River: Where Tradition Meets Adventure:
The Indus River, which runs the length of the country, is a popular fishing area. It is home to several different types of fish, including catfish, mahseer, and carp. The visual splendour of the river's surroundings enhances the whole fishing experience. The Indus River is famous for its mahseer population, a game fish that can stump even the most experienced fisherman. Imagine yourself on the riverbanks, surrounded by the echoes of history, learning the art of fishing.

2 – Exploring the Tranquil Manchar Lake:
Manchar Lake, Pakistan's largest freshwater lake, is a place of peace and natural beauty. The lake's edges feature marshes and reeds, drawing diverse bird species. Fishing offers excitement and birdsong at Manchar Lake. The experience is a combination of sights and sounds that calm and refresh the soul.

3 – Adventure Awaits at Saif-ul-Mulook Lake:
Saif-ul-Mulook Lake, located in the Naran Valley among the beautiful Himalayan range, is a genuine treasure of Pakistan's natural splendour. With its crystal-clear blue waters mirroring the surrounding towering hills, this lake provides a beautiful backdrop for fishing aficionados. The lake is home to unique trout species, making it a popular place for trout fishing. Imagine throwing your line against a background of snow-capped mountains, inhaling in the cool mountain air, and waiting for the excitement of a catch.

4 – Mangla Dam: Where Fishing Thrives:
The reservoir at Mangla Dam is a haven for fishermen looking for a variety of fishing experiences. The dam supports a variety of fish species, including catfish and tilapia. The tranquil waters and beautiful natural surroundings make a relaxing fishing environment.

5 – Rawal Lake – An Urban Oasis:
Rawal Lake, located near the capital city of Islamabad, offers a peaceful break for those looking for a fishing hideaway close to metropolitan services. The lake is well-stocked with several fish species, including carp and catfish, offering a variety and exciting fishing experience. Rawal Lake's quiet waters and gorgeous surroundings. make it an excellent location for an enjoyable day of fishing, whether you're an expert fisherman or just beginning.

6 – Khanpur Lake: Where Relaxation Meets Recreation – Northern Areas:
Khanpur Lake, located near Haripur, offers a wonderful combination of leisure and pleasure for fishing aficionados. The lake's green waters are alive with diverse fish species, making it a popular fishing location. The surrounding environment, with its rolling hills and rich greenery, produces a peaceful ambience that adds to the enjoyment of fishing. Khanpur Lake is a wonderful weekend getaway spot, providing a respite from the hustle and bustle of daily life.

7 – The Scenic Attabad Lake:
Attabad Lake, situated in the lap of the Karakoram Range, is a work of art created by nature's artistic touch. This beautiful lake, formed as the result of a natural calamity, has become a popular destination for fishers looking for peace and adventure. Attabad Lake's pure blue waters are accessible to a variety of fish species, including trout and carp. Imagine throwing a hook from the comfort of a boat, surrounded by towering mountains that appear to reach for the sky.

 8 – Trout Delight: Kunhar River:
The Kunhar River in Kaghan Valley is a trout fishing paradise. Brown and rainbow trout abound in the river's clean water, making for an exhausting yet rewarding fishing adventure. The surrounding lush nature adds to the charm of the setting.

9 – Breathtaking Rama Lake:
Rama Lake, located in the Astore District, is a tranquil setting that is ideal for fishing lovers. The lake is stocked with trout, and getting there is an adventure in and of itself, adding to the whole experience.

10 – A Paradise Called Siri Lake:
Azad Jammu and Kashmir, with its lush green valleys and dense forests, is a paradise for hunters. The region is famous for its population of Kashmir Markhor, a majestic mountain goat species. Additionally, Black Bears can also be found in the region, providing a thrilling hunting experience.

11 – Hub of Marine Life: Gwadar:
The Hub Dam Reservoir, located near Karachi, is a promising fishing location for both locals and visitors. The reservoir's calm waters are stocked with a variety of fish species, making for an exciting fishing experience. Because of its near to the bustling metropolis of Karachi, it is an accessible vacation for those looking for a fishing hideaway without travelling too far. The city's skyline disappears into the background as you throw your line into the waters, leaving you with a sense of calm.

12 – The Mystique of Haleji Lake:
Haleji Lake is a bird sanctuary and fishing paradise in the Thatta district. it is famous for its numerous bird species and fish abundance. It's an outstanding fishing area surrounded by natural beauty and the sounds of migratory birds.

13 – Unforgettable Moments at Hingol River:
The untamed beauty of the Hingol River, as well as the excitement of fishing in its wild waters, draw travellers looking for an off-the-beaten-path experience. The river is home to a variety of fish species, making for an entertaining fishing trip.

14 – Keenjhar Lake – Where History Meets Fishing:
 Keenjhar Lake in Sindh is well-known for its historical significance as well as its superb fishing prospects. This freshwater lake provides an opportunity to capture a variety of native fish species, and its closeness to Thatta's historic buildings adds an added element of charm to your fishing trip.

15 – Rush Lake – A High-Altitude Gem:
Rush Lake, located at a stunning mountain of over 15,000 feet in the Gilgit-Baltistan area, is a high-altitude fishing spot that truly elevates your fishing experience to new heights. Snow-capped hills surround this glacial lake, creating a spectacular fishing experience.. You may cast your line among the majesty of nature and enjoy the excitement of high-altitude fishing here.

16 – Astola Island – The Hidden Gem:
Astola Island, located in the Arabian Sea, is a truly hidden gem for fishing. Its gorgeous blue seas are alive with marine life, making it an ideal location for deep-sea fishing. Whether you're looking for the thrill of capturing enormous game fish or a tranquil time with your fishing rod, Astola Island has it all.

17 – Rupal Valley Stream Thrills:
Rupal Valley's streams provide an amazing fishing adventure for those seeking the raw beauty of nature. These streams, located in the middle of the breathtaking Nanga Parbat range, are home to rare brown trout. The rhythmic sound of rushing streams accompanies you as you explore the rugged landscape, heightening the pleasure of the angling experience. The Rupal Valley streams are a monument to Pakistan's raw, unadulterated beauty.
18 – The Swat River: A Gem in Khyber Pakhtunkhwa:
Rush Lake, located at a stunning mountain of over 15,000 feet in the Gilgit-Baltistan area, is a high-altitude fishing spot that truly elevates your fishing experience to new heights. This glacial lake is surrounded by snow-capped hills, making for a spectacular fishing experience. You may cast your line among the majesty of nature and enjoy the excitement of high-altitude fishing here.

19 – Bolan River: Where History Meets Fishing:
The Bolan River is Balochistan's longest river. It's also called Peer Ghayeb. winds through a terrain rich in history and culture. For those looking for a one-of-a-kind fishing experience, this river provides an opportunity to interact with the local heritage while practising the art of angling. The river is home to a wide variety of fish species, including mahseer and catfish. Consider casting your line against a backdrop of old forts and harsh terrain, creating a seamless combination of history and present.

20 – Auliya Canal: Urban Angling Paradise:
The Auliya Canal, located in the middle of Lahore, provides an unexpected respite for urban fishermen. In the middle of the city's hustle and bustle, this canal offers a calm respite for those looking for a short fishing dose. Fishermen looking for a quick fishing trip find the canal stocked with a variety of fish species, and its position within the city makes it a convenient alternative. Imagine spending a relaxing afternoon casting your line and recharging your batteries by the canal.
21 – Tarbela Dam: A Place of Adventure:
The Tarbela Dam is one of the world's largest earth-filled dams. It's a tribute to human engineering and the power of nature. The dam's enormous reservoir provides an action-packed fishing experience for those who enjoy the excitement of pulling in larger specimens. The dam's waters support a diverse range of fish species, including catfish and mahseer. The sheer size of the building reminds you of the peaceful living together of man and nature as you cross the reservoir's breadth.

22 – Khan River: Sindh's Undiscovered Treasure:
The Khan River runs carefully through the southern province of Sindh, providing a fishing experience just as unique as the region itself. The moderate currents and rich banks of the river provide a perfect environment for a variety of fish species. Anglers will enjoy the chance to capture catfish, rohu, and other local favourites. Consider spending a relaxing day by the Khan River, savouring local flavours and indulging in the time-honoured custom of fishing.
Where to Find the Best Deals and Quality Fishing Gear Equipment and Accessories in Pakistan?
If you are looking for quality fishing Gear Equipment and Accessories at affordable prices in Pakistan. Check out our website at Tactical Trading Pakistan.
Conclusion:
Fishing-seeking adventure, peace of mind, and the thrill of the catch will find an extensive selection of experiences in Pakistan's fishing sites. From the enchantment of Astola Island's waters to the high-altitude peace of Rush Lake. Each site offers a one-of-a-kind opportunity to create unforgettable fishing experiences. So gather your fishing gear, decide on a place, and set out on an adventure that promises to be satisfying and unforgettable. Have fun fishing!
FAQs:
Q1- Is a fishing permit required for these locations?

A: Fishing permits are usually required for most of these spots, especially if you plan to fish recreationally. It's advisable to check with local authorities or guides before you start fishing.
Q2 – What is the best time for fishing in Pakistan?? 
A: The best time for fishing varies depending on the location and the type of fish you're targeting. Generally, spring and autumn are considered good seasons for fishing in most parts of Pakistan.
Q3 – Are there any restrictions on the size and quantity of fish you can catch?
A: Yes, there are often regulations regarding the size and quantity of fish you can catch. These regulations help maintain the fish populations and ensure sustainable fishing practices.
Q4 – Can I bring my fishing equipment, or is it available for rent?
A: You can bring your fishing equipment, but if you're travelling light, some locations offer fishing gear for rent. It's recommended to inquire in advance about equipment availability.
Q5 – Are these fishing spots suitable for beginners?
A: Yes, many of these spots are suitable for beginners. Local guides and fishing experts are often available to provide assistance and guidance to those new to fishing
Stay tuned to our Blog section for more exciting content. If you want to buy some Hiking products. So, therefore, you can visit our store also follow us on Facebook and Instagram