25 Top Camping Sites In Pakistan That You Must Know About!
admingnt
Pakistan has many beautiful and serene locations that are perfect for camping. You can find campsites in all four provinces of Pakistan, with different landscapes and terrains. The best camping sites in Pakistan are located in the country's northern areas, where you can enjoy rugged mountain ranges, snow-capped peaks, and picturesque valleys.
The eastern parts of Pakistan have some of the most scenic landscapes and sought-after camping sites. If you want to experience lush forests or sun-kissed beaches, head to Sindh province or Baluchistan province. Below we have curated a list of the most popular campsites in Pakistan with comprehensive information on each so that you can make an informed decision about which one would work for your next camping tour.
Before that have a look at our essential tips which could help you to choose your next camping site.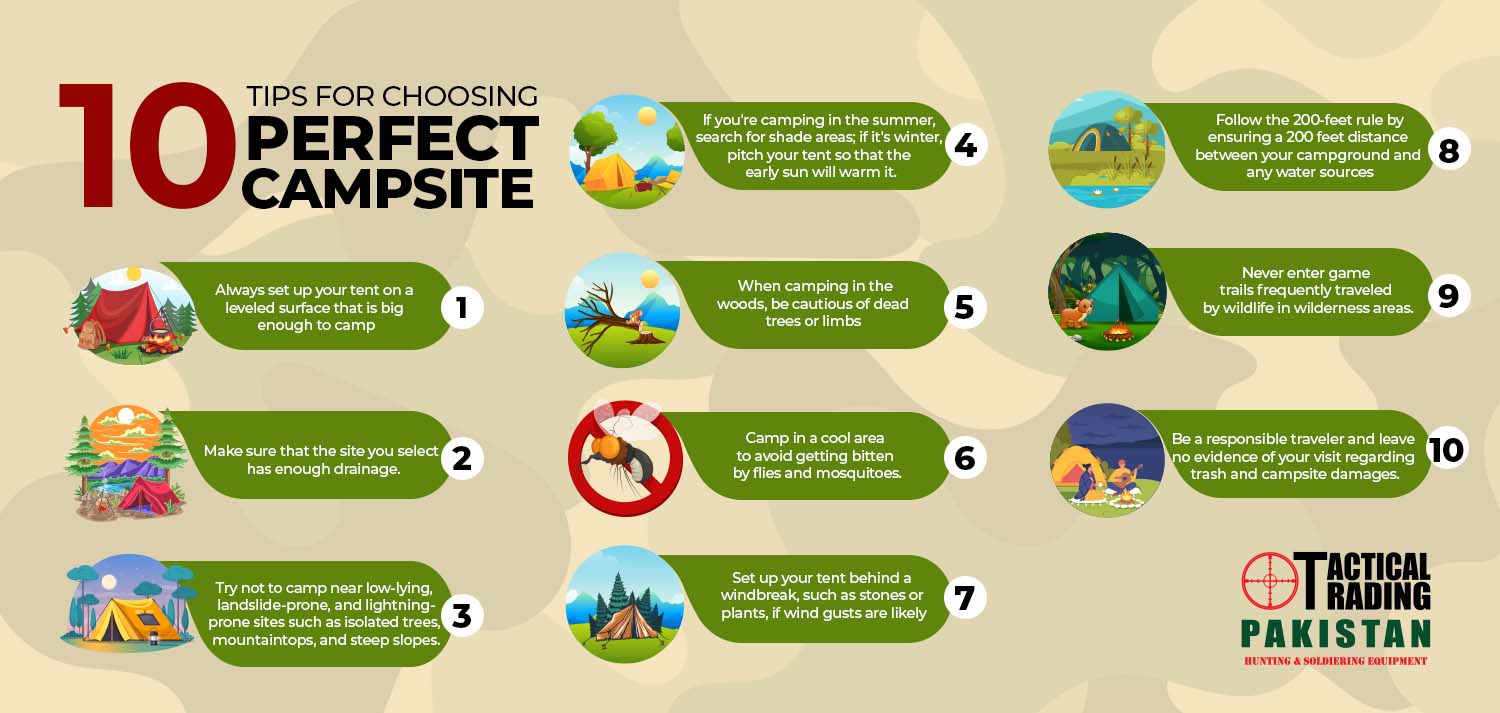 List of 25 Best Camping Sites in Pakistan
Pir Chinasi
Keran – Neelum Valley
Fairy Meadows
Naltar Valley
Ratti Gali Lake
Beyal Camp
Saif-ul-Maluk lake
Hunza Valley
Upper Neelum
Deosai Plains
Sharda
Arang Kel
Taobut
Leepa Valley
Ganga Choti – Ganga Hill'
Banjosa Lake
Toli Pir
Shogran
Siri Paye
Lalazar
Dudipatsar Lake
Rama Meadow (Astore Valley)
Skardu
Kund Malir
Kumrat Valley
Pir Chinasi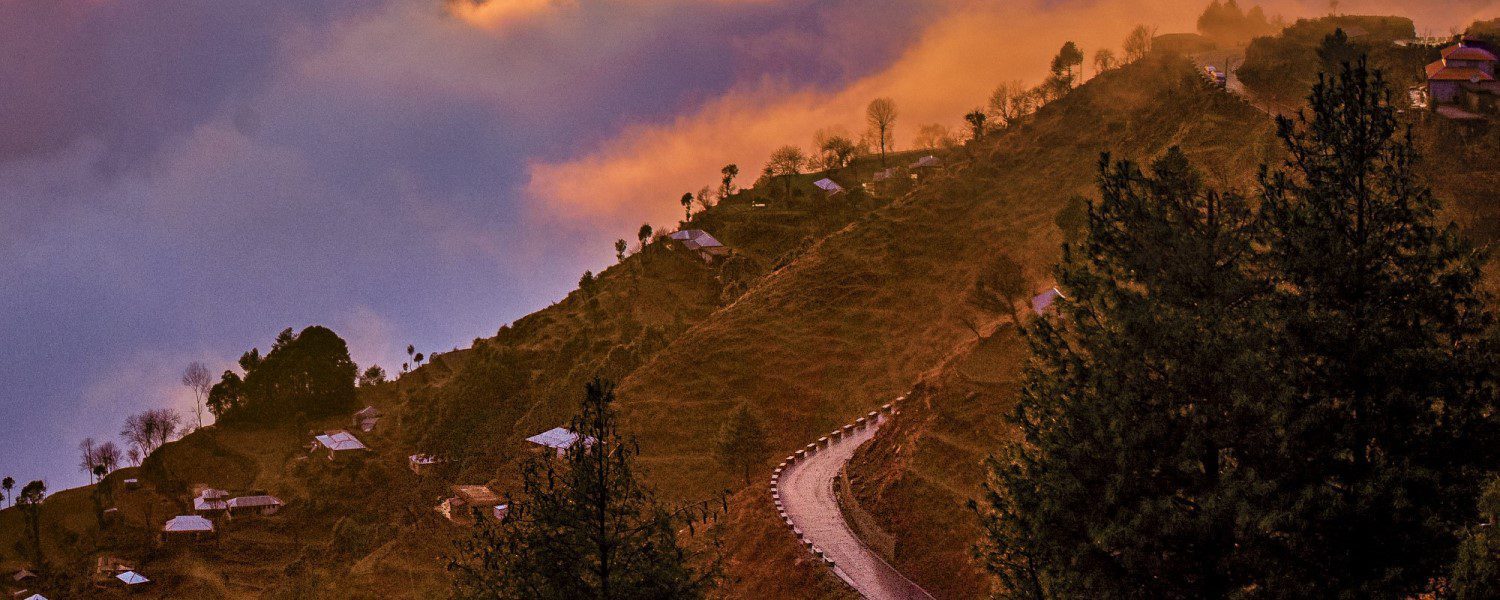 Azad Kashmir's capital, Pir Chinasi, is about 9,500 feet above sea level. When you get to this altitude, you will see lush plains surrounded by stunning mountains. From the top, you may also take in the breathtaking view of the entire city of Muzaffarabad.
How to reach Pir Chinasi?
A brand-new, broad, paved road has been constructed for the hilltop shrine. Camping is permitted next to the shrine, but if you hike for 30 minutes in the direction of the nearby hill, there are more secluded camping areas.
Public transportation is accessible and departs from Islamabad nearly hourly for the 4-hour trip to Muzaffarabad. Take a bus or jeep ride to Pir Chanasi from Muzaffarabad city, but private vehicles, such as the Suzuki Mehran, can easily reach the camping area.
Best time to camp at Pir Chinasi
Snow starts melting around the end of March, making it the ideal time for your camping journey. By the end of March, the path is usually cleared. Camping there is still rather chilly in April; the nighttime and early morning hours can be freezing. Starting in May and continuing through October, camping in Pir Chanasi is advised.
June through September is the best season to go camping.
Keran – Neelum Valley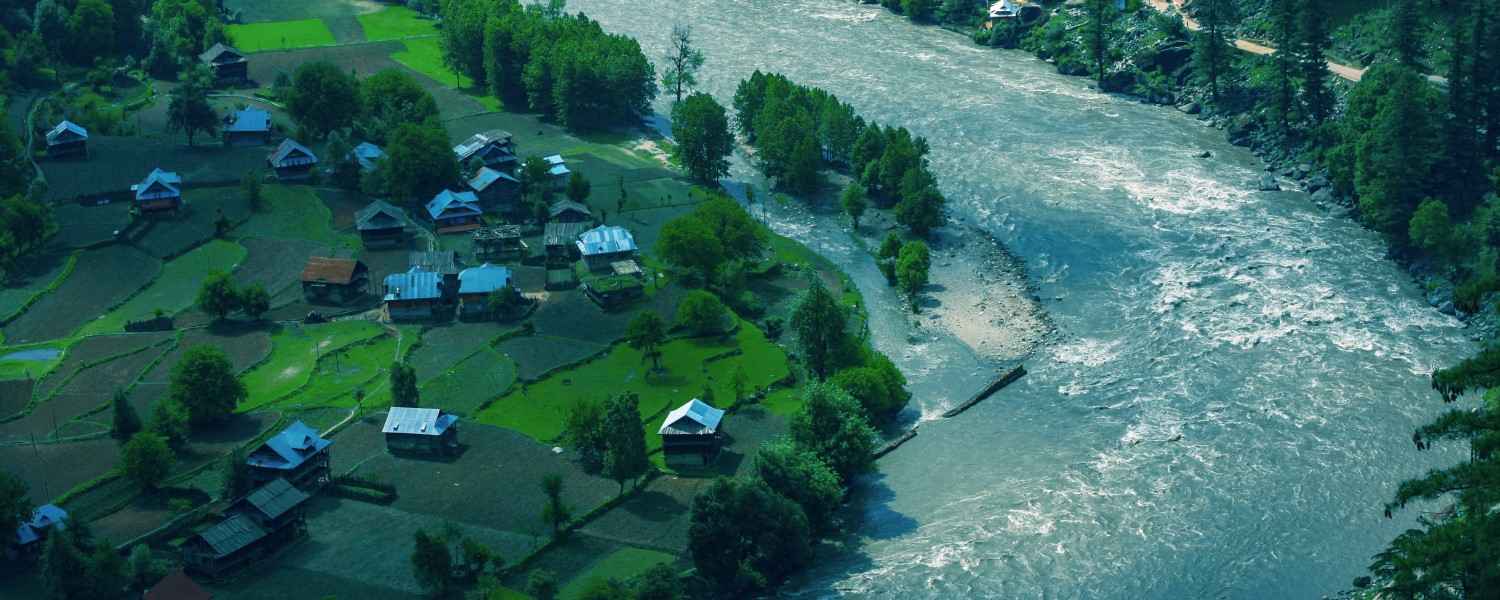 In Neelum Valley Azad Kashmir, near the gorgeous Neelum river, sits the charming little village of Keran. The valley is equipped with all the necessities for visitors. Tourists can rent jeeps from here to use Keran as a basecamp to travel to other picturesque locations, including Taobut, Kel, and Arangkel.
How to reach Keran: A complete paved road to this campground is available. There is public transportation from Islamabad to Muzaffarabad and subsequently from Muzaffarabad to Keran. The Suzuki Mehran is one of the private vehicles that can reach this location.
Best time to camp in Keran: May to September
Fairy Meadows

Due to its breathtaking natural beauty, Fairy Meadows is a fantastic place for campers. The lush green surroundings and brisk breeze at such a height may tempt campers to stay put permanently. You will be able to see Nanga Parbat in front of you if you have the opportunity to visit Fairy Meadows.
It's not as simple as it seems to get to Fairy Meadows. It requires a trek over Raikot Bridge to reach its elevation of 10,800 above sea level. From Gilgit, it is 80 kilometres away. You won't regret your struggle once you get to Fairy Meadows.
How to reach Fairy Meadows: From Raikot Bridge, it takes an hour-long off-road jeep trip, then three hours to hike to Fairy Meadows. From Islamabad, public transportation can drop you off at Raikot Bridge. Your cost for the jeep trip would be 6000 PKR. For a three-hour hike, you can also hire guides.
Best time to camp at Fairy Meadows: July to September
Naltar Valley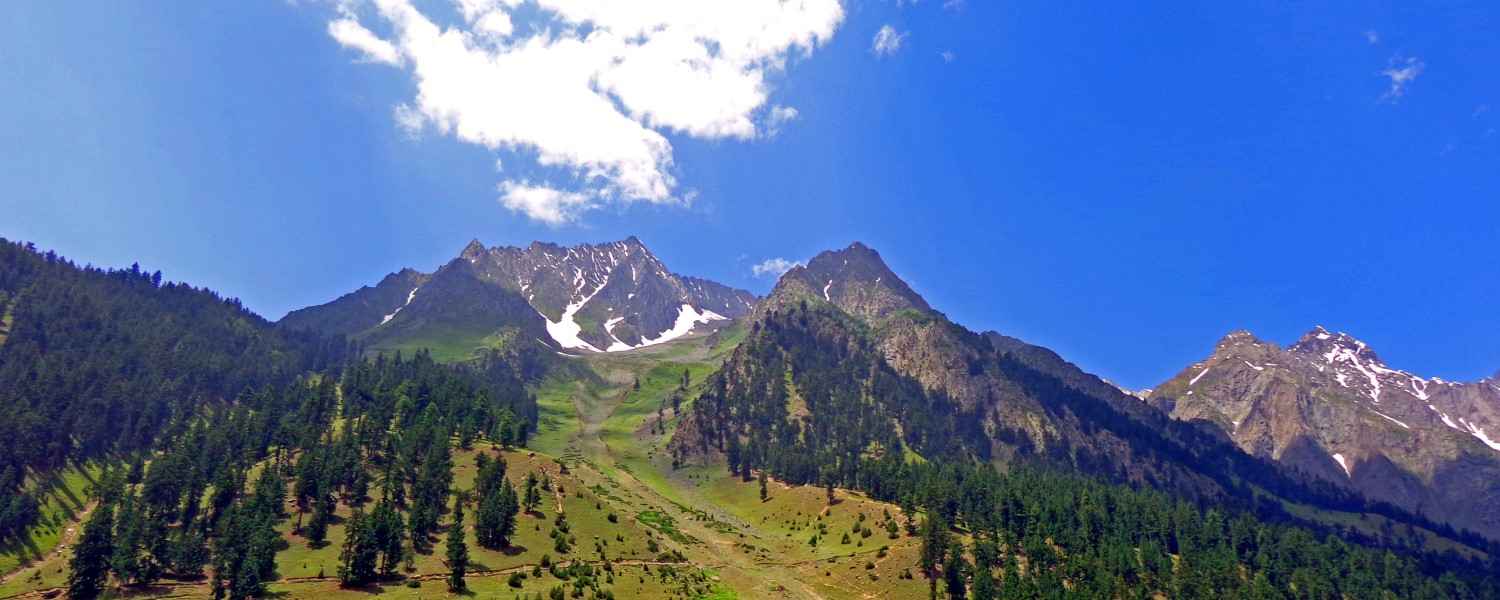 Near Gilgit City, Naltar Valley is located about 40 kilometers away and is about 9,550 feet (2900 meters) above sea level. With its lush meadows and forested hillsides, the environment is incredibly stunning. Since its slopes are perfect for skiing and hiking, Naltar Valley attracts many winter tourists.
How to reach Naltar Valley: For those looking to go off the beaten tracks, Naltar Valley is an excellent site. It's a 5-hour drive from Gilgit City, and you'll need to hire a jeep. Naltar Valley has unpaved roads so try not to travel with too much luggage in tow. Alternatively, you can take public transportation from Islamabad to Gilgit City, then take a bus to Naltar Valley.
Best time to camp at Naltar Valley: June till September
Ratti Gali Lake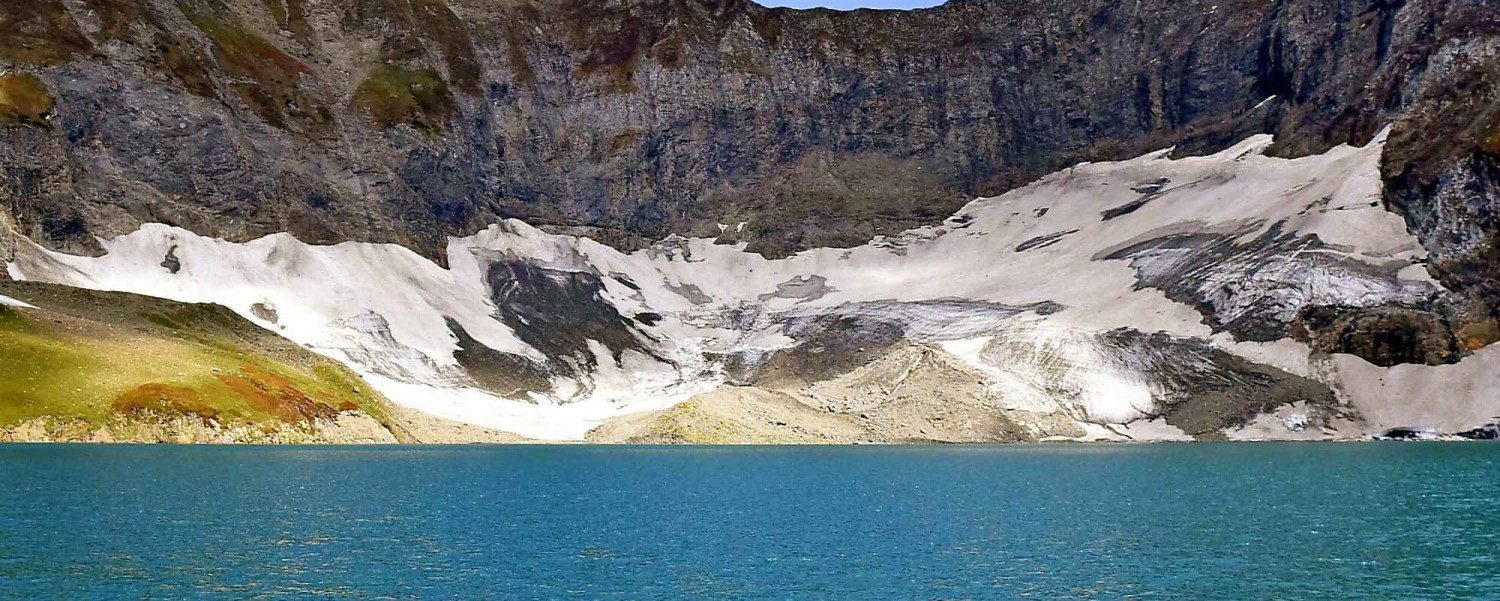 Ratti Gali Lake is a stunning, alpine glacial lake located 12,000ft in the Karakoram Mountain Range of Pakistan. It's one of the country's most beautiful lakes and offers tourists easy access to its pristine waters, which are so clear they reflect the surrounding snow-capped mountains. The lake was formed approximately 8,000 years ago by the melting of an ancient glacier and is surrounded by snow-capped peaks, making it one of Pakistan's most beautiful.
How to reach Ratti Gali Lake: A complete paved road up to Dowarian is available: an 18 km off-road Jeep ride to the base camp of Ratti Gali. Ratti Gali lake is accessible after a one-hour climb. Up until Dowarian, public transportation is available. A private jeep will run you to get to the base camp; although possible, it is not advised to drive your 4WD to the base camp due to the state of the roads.
Best time to camp at Ratti Gali lake: June to August.
Beyal Camp (Nanga Parbat Base Camp)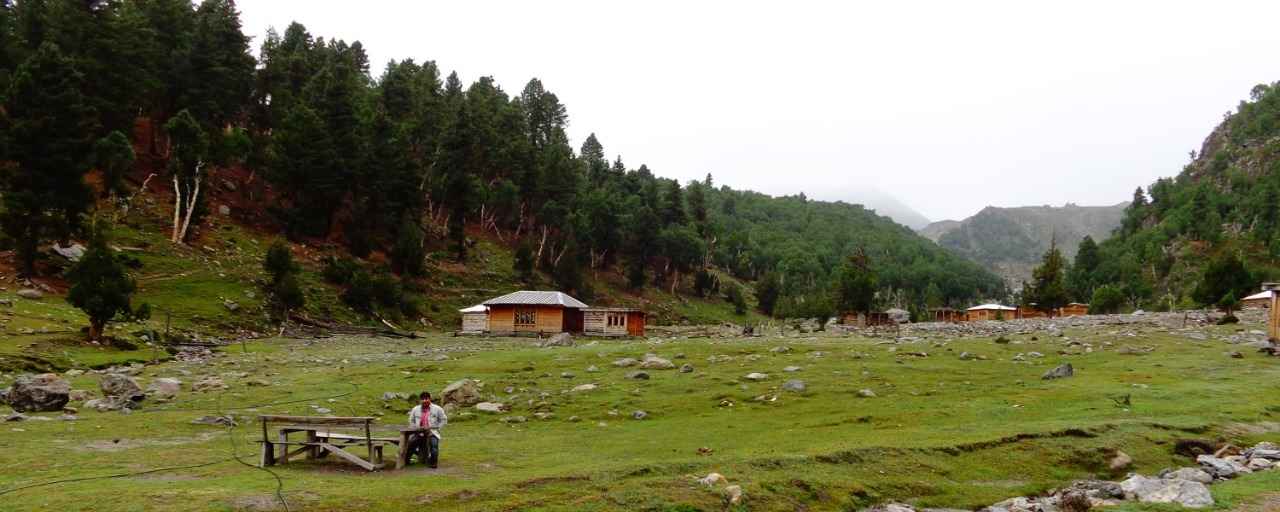 Getting to 'Beyal camp' in Pakistan is the starting point for people looking to climb 'Nanga Parbat,' the highest peak in the country. It's also one of the toughest challenges for hikers around the world. It has a lot of facilities that are open to campers and visitors. These include picnic spots and a shooting range for cultural events. It also has various accommodation options booked in advance or on arrival.
How to reach Beyal Camp: A guide is a must for this trek because it's 6 hours from Fairy Meadows, and there are places you may get lost in the dark. It's mostly single-track, so you can expect to have a cruiser once you start this trek.
Best time to camp at Beyal Camp: July and August
Saif-ul-Maluk lake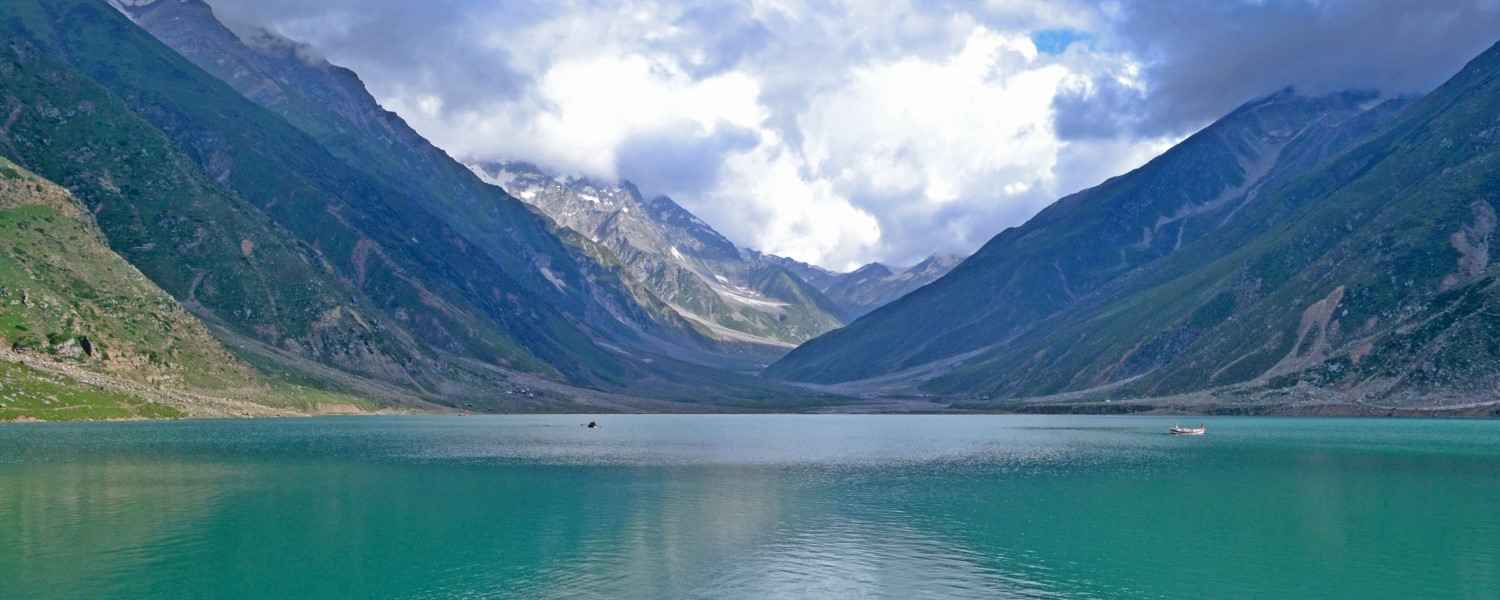 Saif-ul-Maluk Lake, which is about 10 kilometers from Naran, is one of Pakistan's most beautiful lakes due to the surrounding snow-capped mountains. Numerous boating and picnicking options are available at this lake, located at an elevation of 10,600 feet (3,200 meters), attracting thousands of visitors each year.
How to reach Saif-ul-Maluk lake: There is an unpaved road for 10 kilometers from Naran. Drive a jeep that you rent or your 4WD. Because of the state of the roads, sedans cannot reach the lake.
Best time to camp at Saif-ul-Maluk lake: June to September
Hunza Valley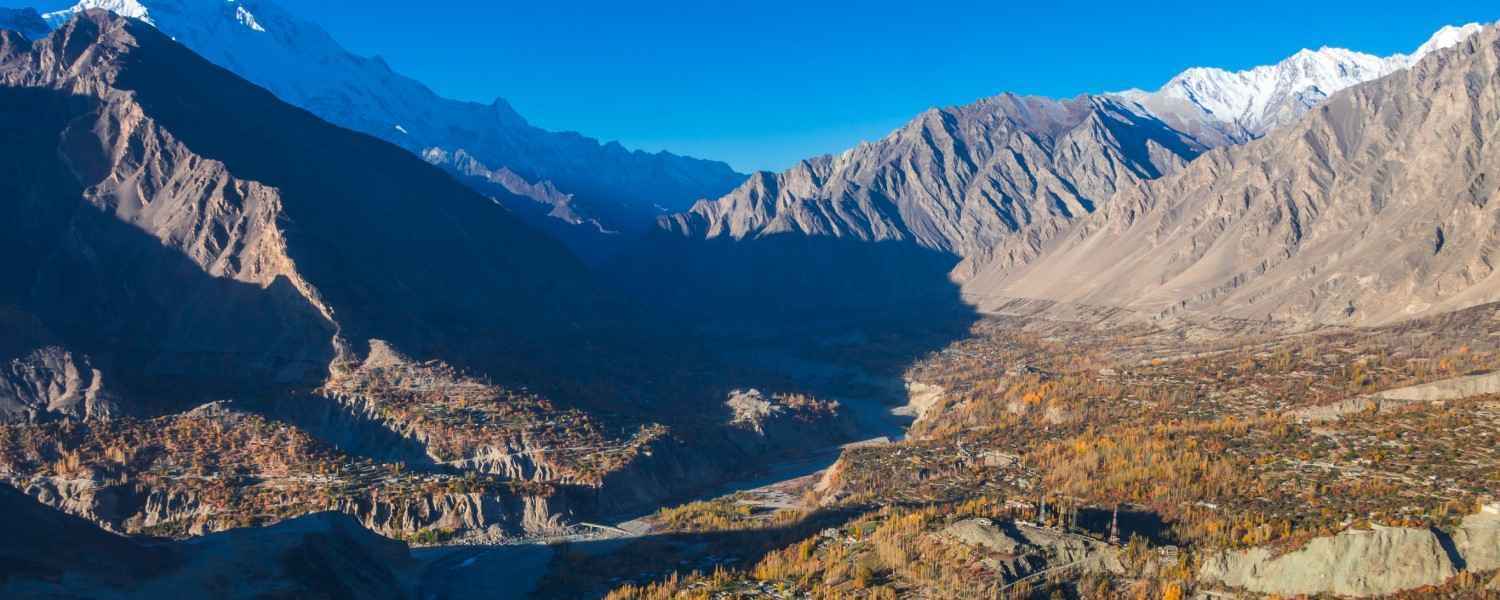 Hunza Valley is a high mountain valley in the Gilgit-Baltistan region of Pakistan. It is situated about 160 km from Islamabad and 50 km from Gilgit. The valley is known for its natural beauty, especially during the spring season, for which it attracts many tourists each year.
This stunning valley offers a variety of camping sites to suit every need and budget while also having many historical sites worth visiting.
How to reach Hunza Valley: Paved highway From Islamabad, public transportation is available. All types of private cars can be used to get to this location.
Best time to camp at Hunza Valley: June to September
Upper Neelum Valley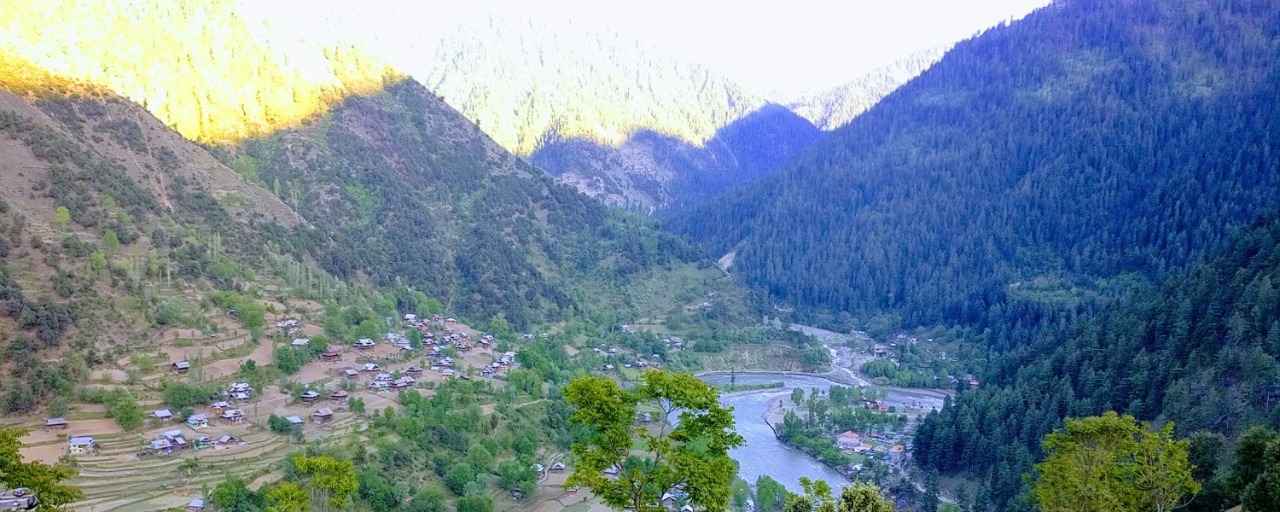 The Neelum Valley, found in the northern regions of Azad Kashmir, is a pristine watershed. It has lush forests, beautiful waterfalls, and mountains. The only thing you will find on this river is that it marks the border between neighboring India and Pakistan, which is also thrillingly disputed.
How to reach Upper Neelum Valley: A paved highway a short distance from Karimabad town is available. From Islamabad, public transportation is available. All types of private vehicles can be used to get to this location.
Best time to camp at Upper Neelum Valley: June to September
Deosai Plains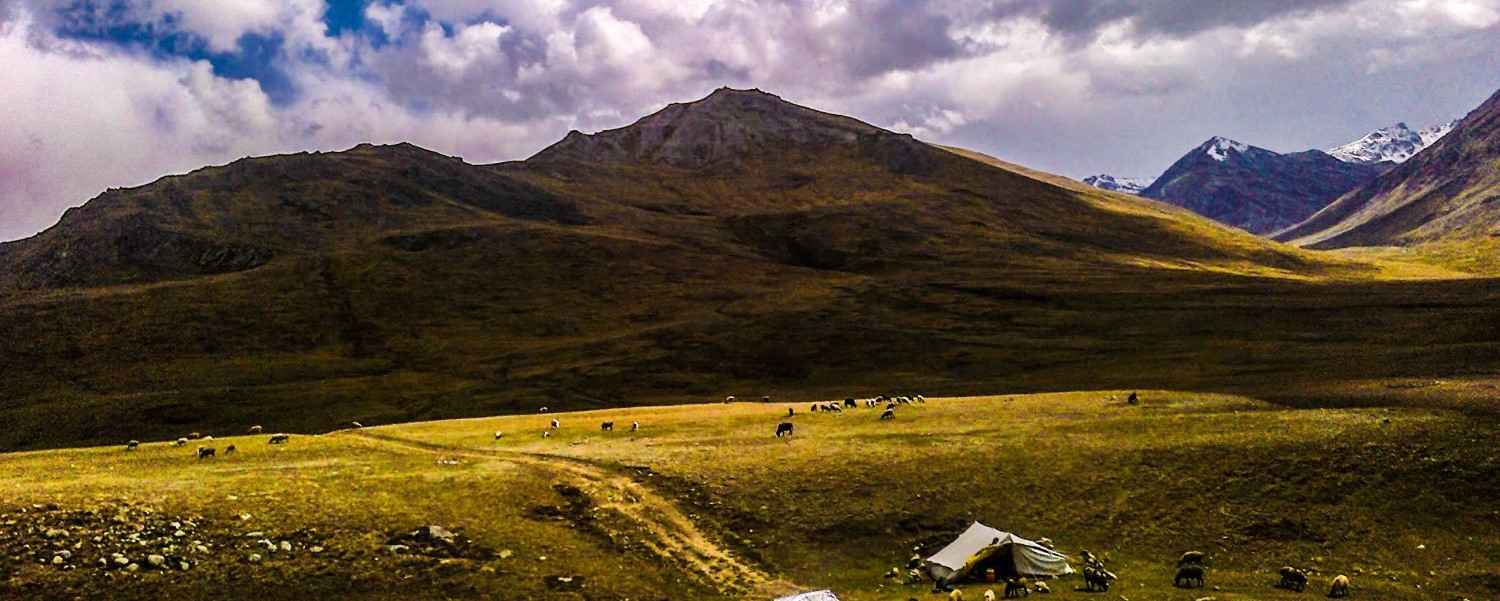 The Deosai National Park is located in Skardu. It's considered the second highest plateau in the world and one of the best places for spotting wildlife on your once-in-a-lifetime visit! The location is stunningly beautiful, breathtaking, and perfect for camping under a starry sky. With its rich flora and fauna, you can enjoy all sorts of activities here – from camping to hiking and even wildlife spotting.
How to reach Deosai Plains: Up until Skardu, public transportation is available. To get to Deosai Plans and select a camping location, you can rent a jeep in Skardu. Deosai Plains is easily accessible from the Astore side by all types of private vehicles. The road has been paved from the Astore site to the Deosai National Park's border.
Best time to camp at Deosai Plains: June to September
Sharda

Sharda is a little settlement in Pakistan's Azad Kashmir's Neelam District. It is a neighboring tehsil in the Neelum district. Such is situated 136 kilometers northeast of Muzaffarabad, at an elevation of 1981 meters, along the banks of the Neelum stream.
How to reach Sharda: There are public transportation options to Sharda. Access to the camping area is simple for all types of private vehicles. The road has been paved. Best time to camp at Sharda: June to September
Arang Kel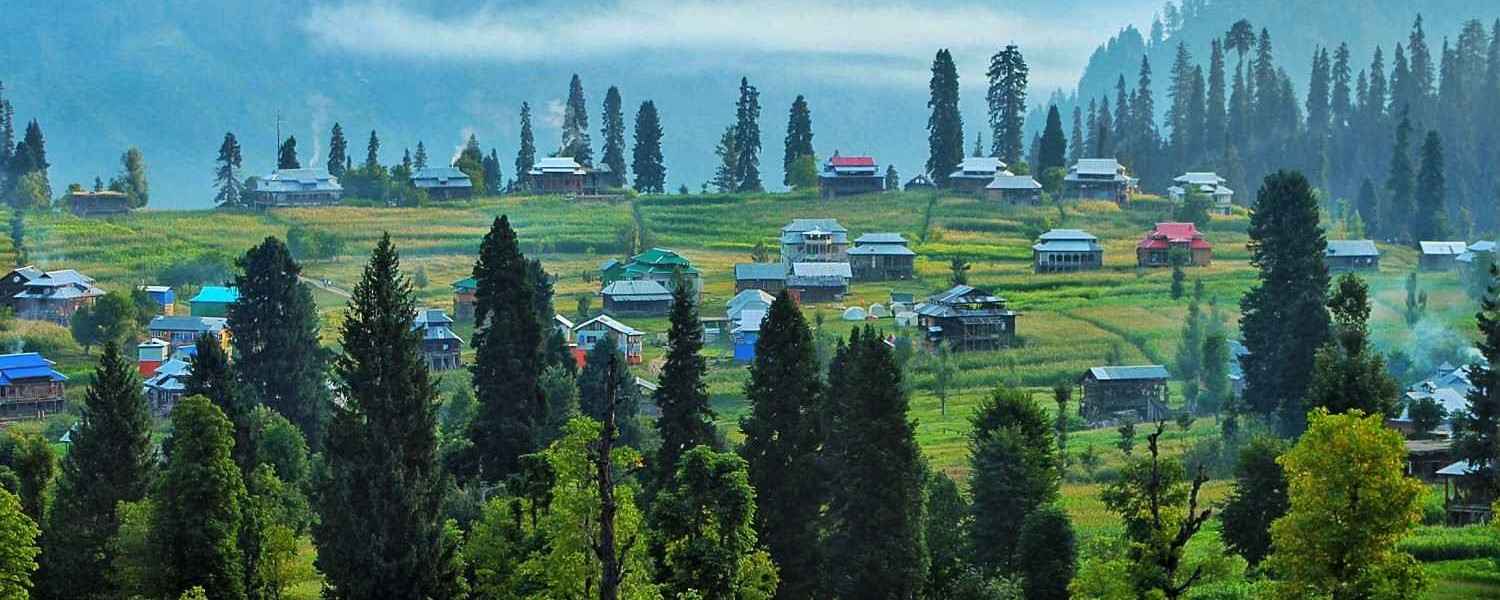 In the Neelum Valley, about 20 kilometers from Sharda, is the lovely camping area known as Arang Kel. It is a unique camping location renowned for its magnificent beauty and unspoiled environs. Given its elevation of 7,800 feet (2,300 meters), reaching it may be difficult for children, the elderly, and adults, but the experience is incredible and worthwhile.
How to reach Arang Kel: The road to Kel is paved. Take a chairlift from Kel to Arang Kel, or hike through the forest for two kilometers. From Muzaffarabad, public transportation is readily available to Arang Kel.
Best time to camp at Arang Kel: June to August
Taobat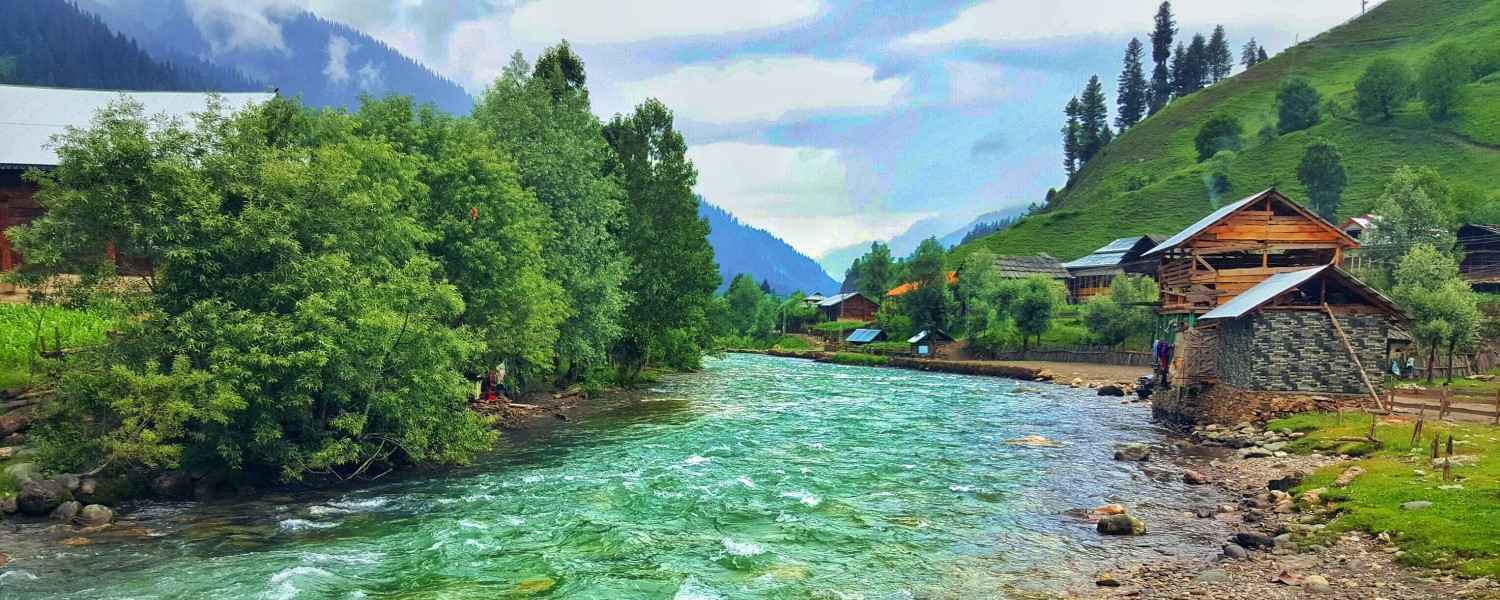 Taobat Tent Village offers a unique experience of camping in the middle of the city, and there are many reasons why this place is worth visiting:
It's located very close to Islamabad, so it's easy to get there from any part of Pakistan or even abroad if you happen to be visiting Pakistan at any time.
The campsites are located near a beautiful park, and there is also a lake nearby.
Taobat Tent Village offers a highly comfortable camping experience with their 'firelight tents' where you can snuggle into your sleeping bag or cuddle up with your loved one and enjoy some great memories.
How to reach Taobat: An unpaved road connects Kel and Taobut, so 4WD is advised. Sedans cannot reach Taobut until Kel, and public transportation is accessible. If you have a 4WD vehicle, you can drive or rent a jeep from Kel.
Best time to camp at Taobat: July to September
Leepa Valley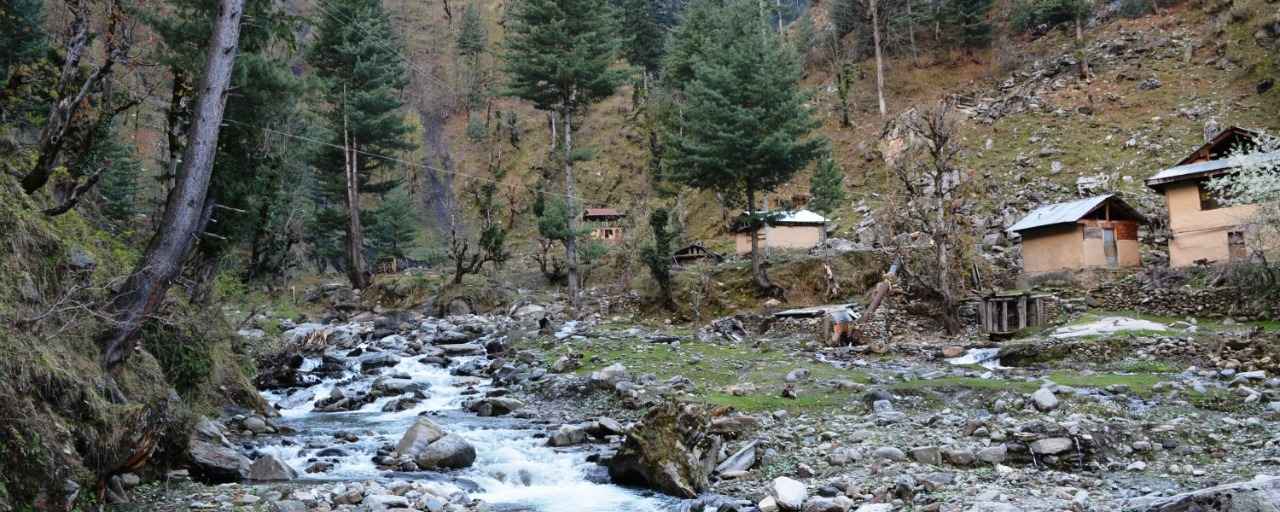 The Leepa valley is a part of the Hattian Bala district. The distance to Muzaffarabad is about 83 km. When snow is everywhere in the winter, this valley is exceptionally stunning, and photographers appreciate this breathtaking location. The location is perfect for camping. You can also stay in a forest hut or a hotel created by the tourism offices of Jammu and Kashmir, and Azad.
How to reach Leepa Valley: Great pavement up to Sharian. To get to Leepa Valley, rent a jeep or use a 4WD vehicle.
Best time to camp at Leepa Valley: June to September
Ganga Choti – Ganga Hill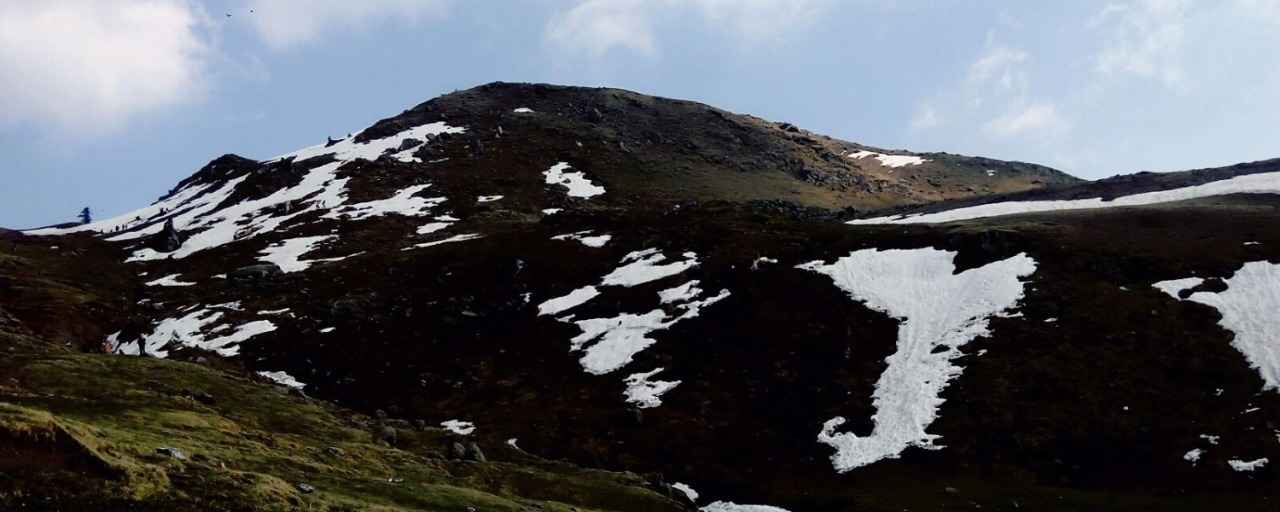 Ganga Choti is a mountain peak near Sudhan Gali and Bani Minhasan, Pakistan towns. From Sudhan Gali, you can use the base camp to climb up to the mountain's summit. Ganga Choti is 3045 meters high and is the highest mountain peak in the region. Ailman TakkarAilman takkar is an icy lake near Ganga Choti with a large ice cap. It is around 3,000 meters high and has over 30 kilometers.
How to reach Ganga Choti: An excellent road to Shudan Gali is available. The trek up took three hours. Public transportation is accessible from Bagh and Muzaffarabad. Before beginning the hike, you must park your private vehicle somewhere.
Best time to camp at Ganga Choti: July and August
Banjosa Lake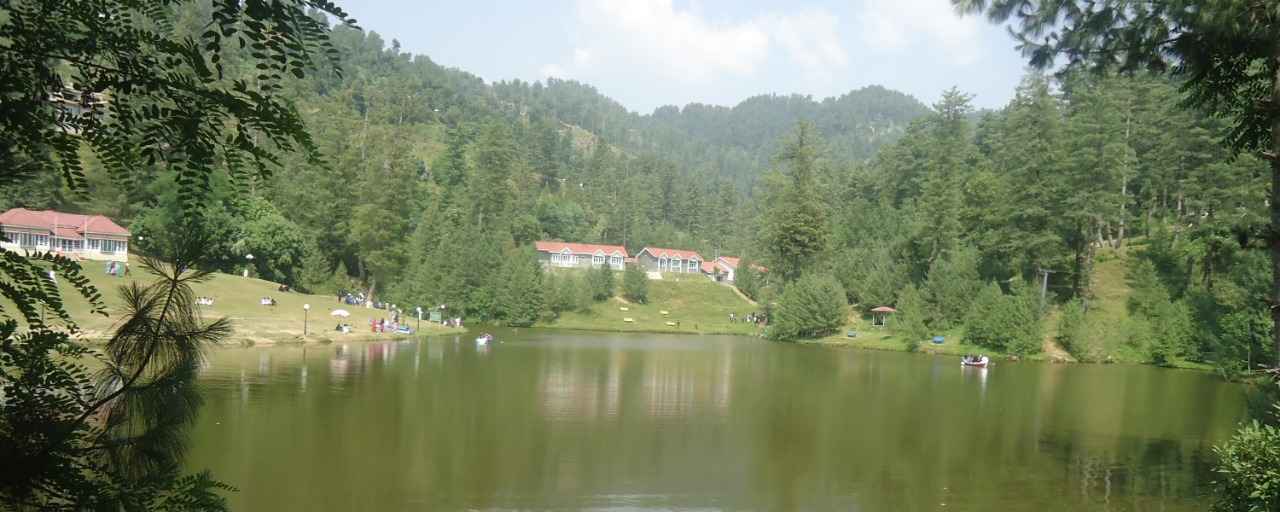 Camping at Banjosa Lake is a fantastic experience for people who like adventures. Banjosa Lake is situated in the mountains of Azad Kashmir, Pakistan. It is a popular tourist spot in the country and has become a significant attraction for camping in Pakistan. The campsites are well-maintained and provide electricity, running water, toilets, and more. Camping at Banjosa Lake provides a unique experience for those who enjoy outdoor activities like hiking, fishing, and more.
How to reach Banjosa lake: To the lake is a paved road. The lake is accessible via public transportation from Rawalakot. Any type of private vehicle can reach the camping area.
Best time to camp at Banjosa lake: May to September
Toli Pir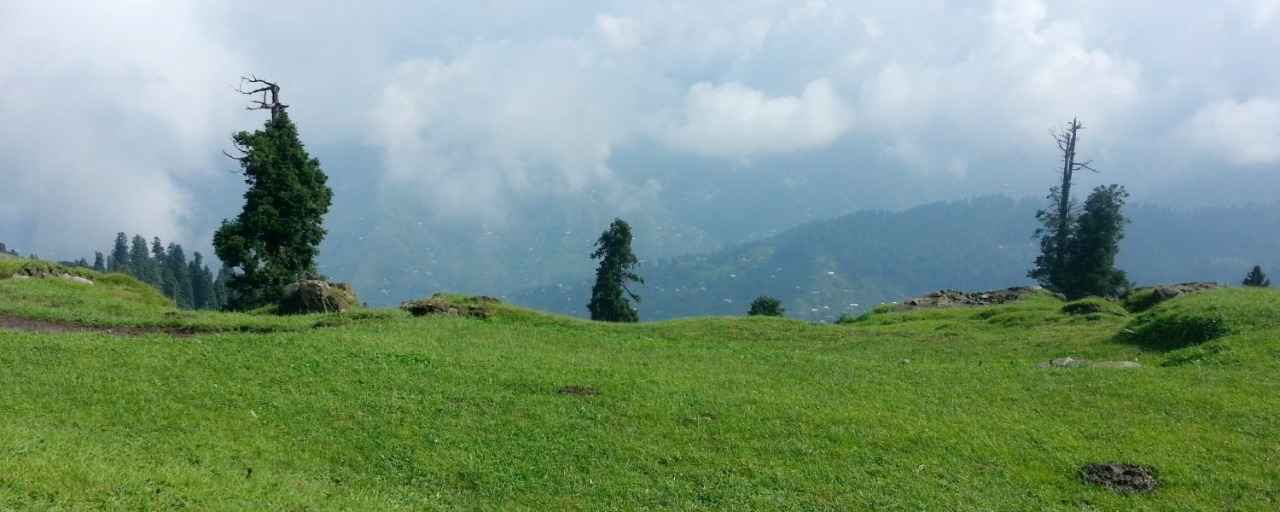 Toli Pir is a hill station in Rawalakot, Azad Kashmir. Its elevation ranges from 8800 to 9200 feet above sea level. The highest mountain in Rawalakot is called Tolipir, which stands at 10,960 feet. Toli Pir is a scenic mountain range with an untouched, picturesque landscape that draws tourists from all over. The best time to visit is in summer to enjoy the blue sky and lush vegetation. Unique rest houses make it a lovely place to stay on the approach to Toli Pir, while an old Mazar still stands on the highest of the hills, attracting many visitors.
How to reach Toli Pir: Paved path to the summit. Rawalakot is where you can rent a car or a Jeep. All types of private vehicles can easily reach this location.
Best time to camp at Toli Pir: June to September
Shogran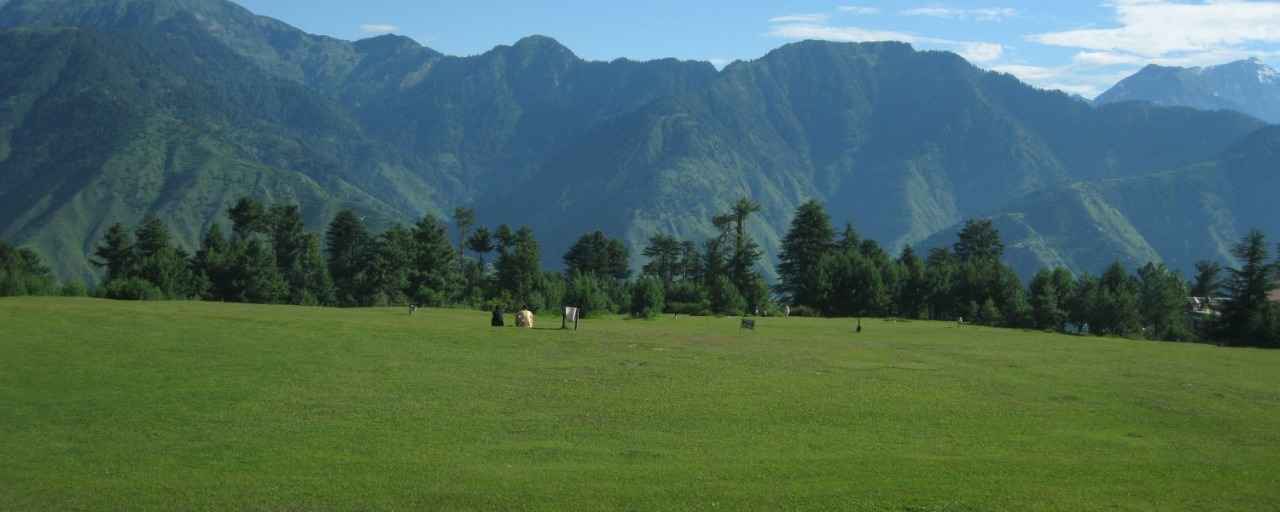 One of the most accessible camping sites in Pakistan, Shogran is famous for its lush green meadows and pine forests. , where you can enjoy camping with friends and family. The Shogran meadows, along with the nearby hill country and pine forests, are home to various animals, including leopards, wolves, and bears. It's a scenic spot 66 kilometres from Naran town, at an altitude of about 7,500 feet (2,300) above sea level.
How to reach Shogran: Easy access to Shogran due to its paved road. Accessible by all types of private vehicles.
Best time to camp at Shogran: June to September
Siri Paye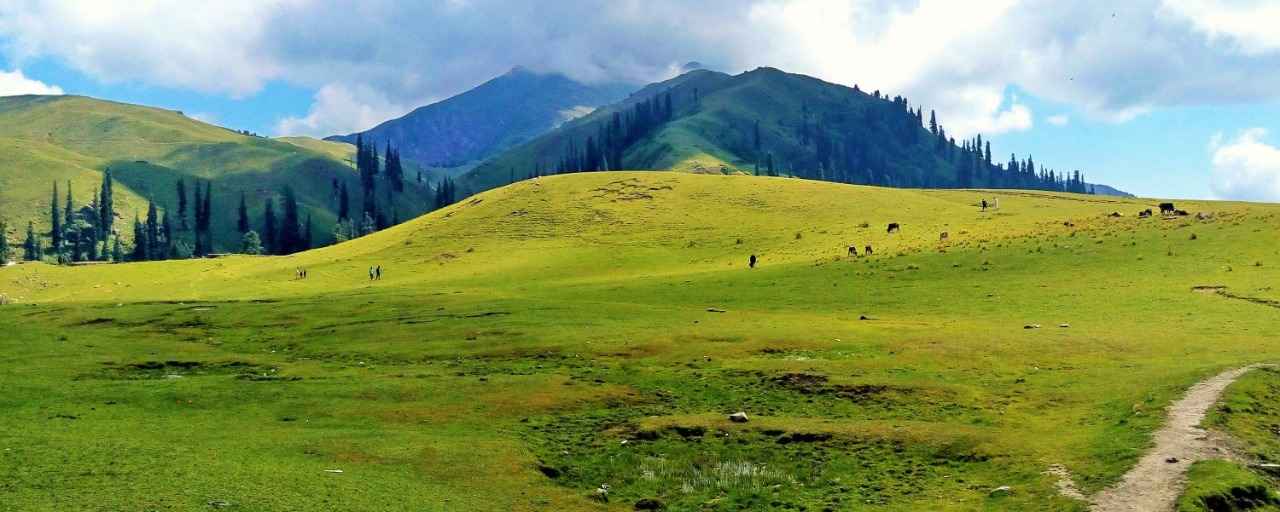 Everyone is fascinated by Sri Paye Meadows' stunning natural beauty. It is completely covered in snow during the winter. In the summer, meadows and lush grass provide a lovely appearance. You will feel at home due to the friendly and courteous gestures of the locals.
How to reach Siri Paye: Kiwai is the gateway to Shogran, the gateway to Sri Paye camping. To go to Shogran, rent a vehicle from Kiwai. After traveling for 40 minutes to reach Shogran, it will take 20 minutes of uphill walking on a small, winding path to reach Siri Paye.
Best time to camp at Siri Paye: July to September
Lalazar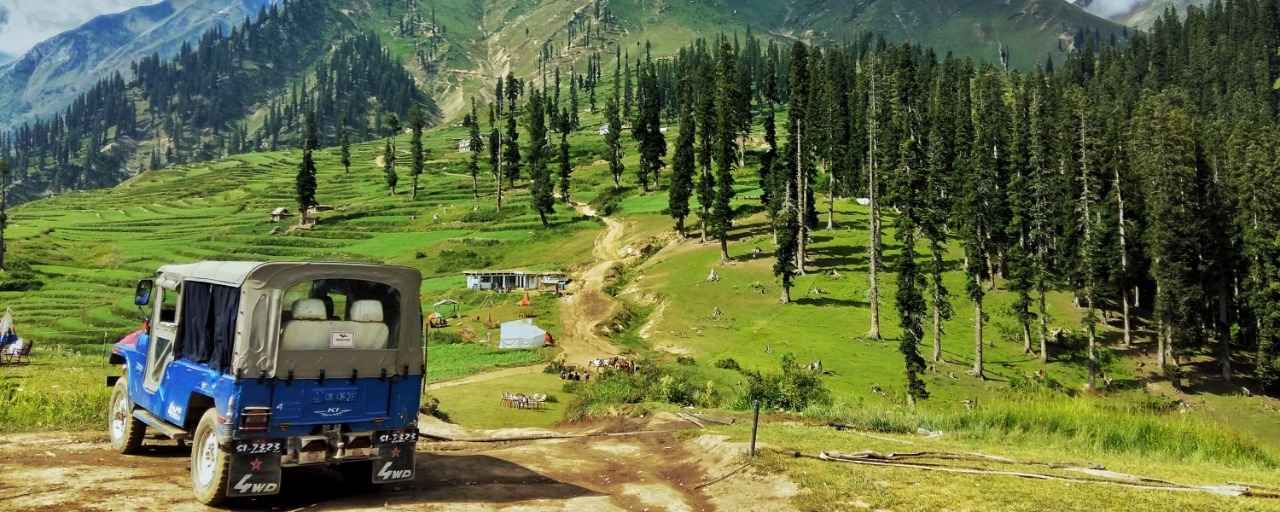 Lalazar is a stunning, rich green meadow surrounded by vibrant wildflowers, located 21 kilometres from Naran at an elevation of 10,499 feet. The River Kunhas flows on one side of the walk, providing beautiful scenery, and it is reachable by a jeep. It is a fantastic place rich in culture, heritage, and nature. It has a variety of flora and fauna and is filled with scenic landscapes. The place has many attractions, like the Naran fort, the temples at Gokarna, and much more.
How to reach Lalazar: Paved road to Naran. Try to get the best deal when renting a jeep from Naran. From Islamabad to Naran, public transportation is accessible. The last few miles from the main road to Lalazar are unpaved, so a 4WD vehicle is required to get to the top.
Best time to camp ar Lalazar: June to September
Dudipatsar Lake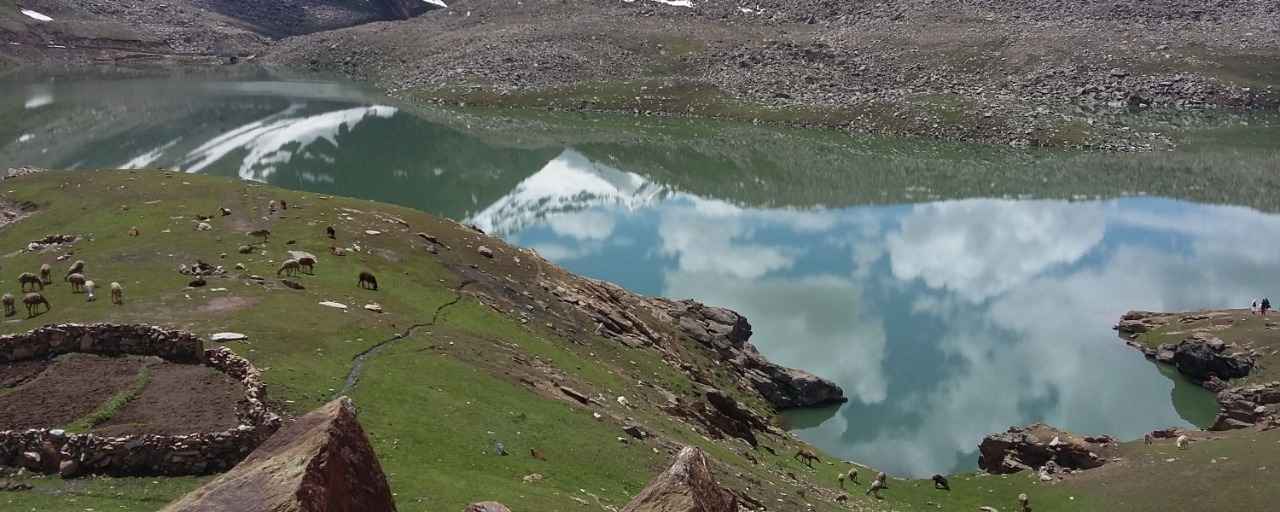 In the Kaghan Valley neighborhood of Mansehra, there is a lake called Dudipatsar Lake. The lake is a trekkers' heaven due to its beautiful environment and hike. There aren't many people in the region, and the setting is relatively remote. The lake is located at a height of 12500 feet above sea level. Because of its luxuriant foliage and flowering blossoms, it is a very uncommon and distinctive lake. If you have high morale, you can easily catch trout fish in the lake, known as a trout fishery.
How to reach Dudipatsar Lake: 8-hour hike from a tiny village called Besal. You can try hiring horses to transport your camping equipment. Up until Besal, the route is paved. If you're using a private vehicle, park it there. To go to Besal, you can rent a Jeep or a car from Naran.
Best time to camp at Dudipatsar Lake: July to September
Rama Meadow (Astore Valley)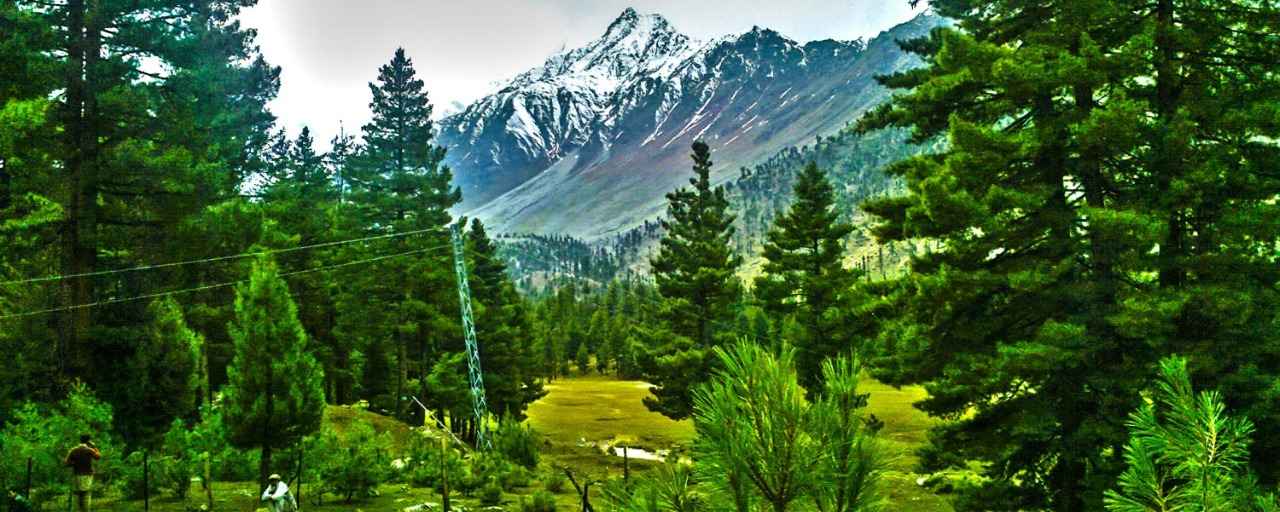 Rama Valley is home to Rama Lake and Rama Meadows. The Astore village area contains this magnificent valley. The beauty of this valley is merely the tip of Gilgit Baltistan. Explorers and adventurers have not yet explored the majority of Rama Valley. Many people like to unwind and camp here.
How to reach Rama Meadows: From Islamabad, the entire route is paved. Up until Astore city, public transportation is also accessible. Rama Meadows can be reached by renting Jeeps.
Best time to camp at Rama Meadows: June to September
Skardu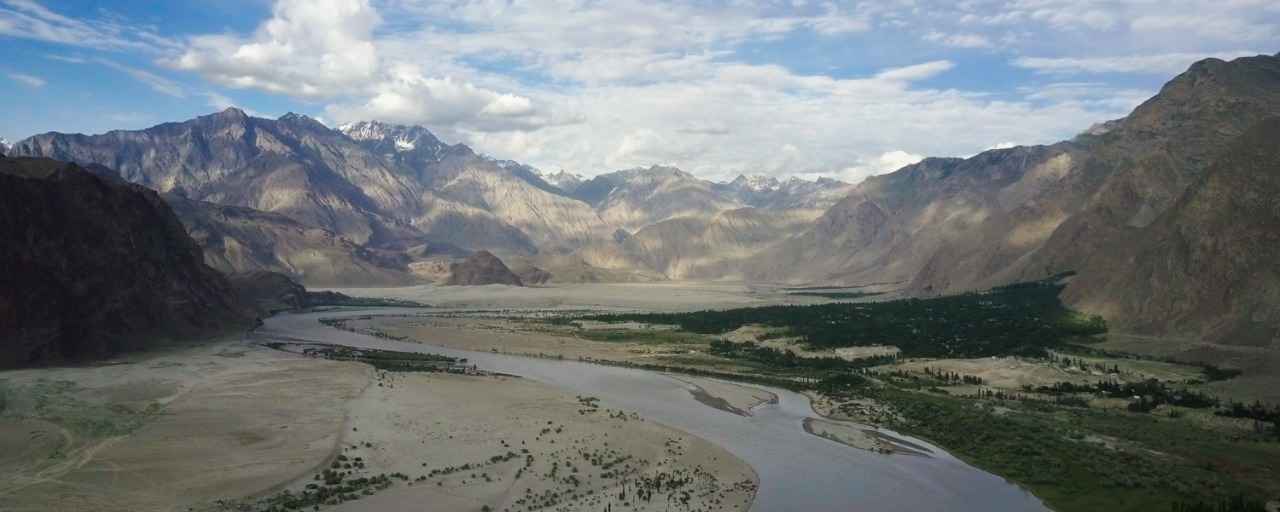 Skardu is famous for camping. There are many campsites in Pakistan, but Skardu is the best place to go camping. It has a beautiful environment, and the valley is just mesmerizing. The most popular campsite in Skardu is the Shigar Valley Campsite. It has a beautiful mountain view and is located at a distance of 20 minutes from Skardu city. The campsite has all the facilities that one can need for camping like tents, cots, bathrooms, a dining area and so on.
How to reach Skardu: The entire distance to Skardu city is paved. There is also public transportation to the city. A swift-moving river is just close to the campground. To camp here, use GPS, or pick another location that works for you.
Best time to camp at Skardu: June to September
Kund Malir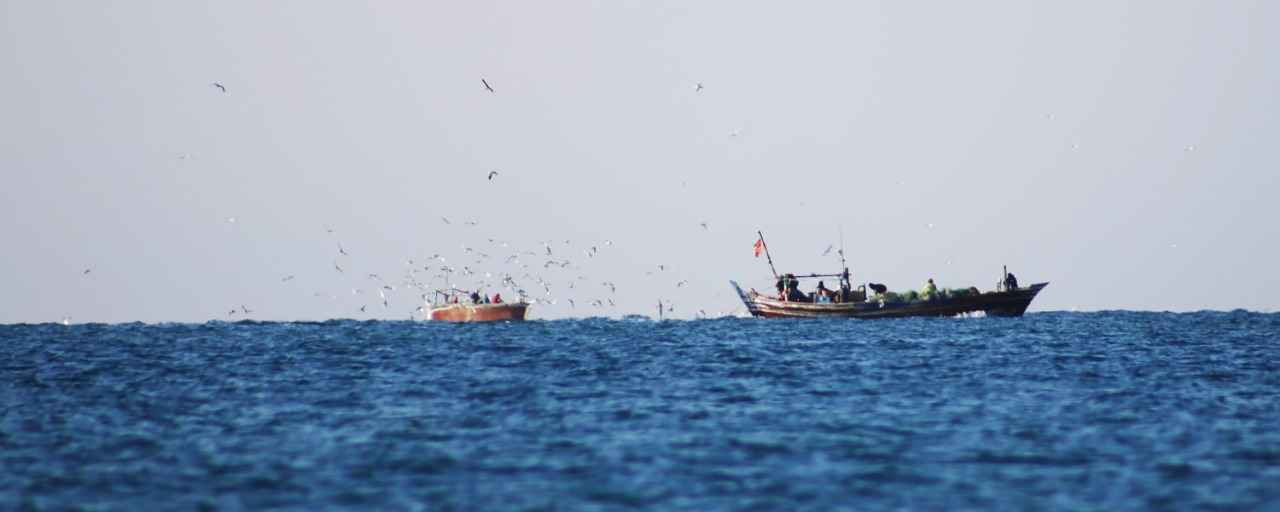 The southern part of Pakistan is where you can find Kund Malir, not the northern parts of Pakistan. The path is not dangerous. You will find minor peaks in the Makran coastal areas, but they are not the same as the high hilly places. The most important site to camp is here if you want to see the sunset on a beach while enjoying the calm wind around you and the sound of the waves playing their tune in your ears. Just pack your camping supplies and head to Kund Malir to take in the tranquillity of nature.
How to reach Kund Malir: The Makran Coastal Highway is nicely paved, and Kund Malir is only 4 hours by vehicle from Karachi, so you may get there on your transport.
Best time to camp at Kund Malir: February to September
Kumrat Valley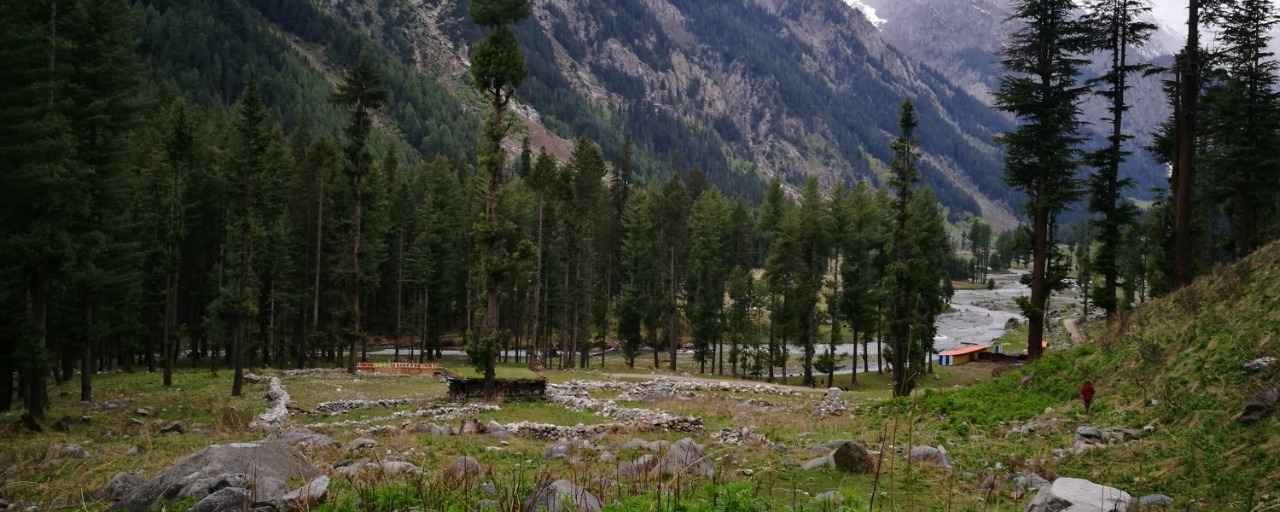 Pakistan is one of the most beautiful countries in the world. It is a perfect destination for camping enthusiasts with mountains, deserts, and forests. The Kumrat valley is one of Pakistan's most famous places to camp. Its lush green forest, waterfalls, and snow-capped mountains provide an ideal backdrop for an outdoor adventure. The Kumrat valley was created by glaciers thousands of years ago when they were carved away at the mountain range that separates Pakistan from Afghanistan. There are many campsites in Pakistan to choose from. Still, the Kumrat valley has some significant advantages over others because of its location on a plateau with easy access to lowland and highland ecosystems.
How to reach Kumrat Valley: If you have a 4WD vehicle or a motorcycle with a capacity of up to 150cc, you can travel to Kumrat through Kalam. The entire road is rocky and muddy. Ensure your driver can handle the route's hilly curves and steep slopes before beginning. If you don't want to travel over the mountains, you can take Dir, a smooth route that a regular driver can easily handle.
Best time to camp at Kumarat Valley: May to August
Practical Hacks for Camping
PRACTICE SETTING UP THE TENT AT HOME
That's right, not everyone is a camping professional, and when you're out in the woods with only minutes of sunlight left, it can be intimidating to start a fire or find your way around.
Instead of camping for a few weeks before you set up your tent, do it a few times in your living room or backyard so that you know how things should be positioned and can set up the tent quicker afterward. That way, the whole process will take less time, and you won't waste your precious camping time with the assembly.
PICK YOUR CAMPSITES AHEAD OF TIME
Wouldn't it be great if you knew where to camp for the night? That feeling is stressful when the sun is about to go down, and it looks like you will only find a parking space on a big road or garage.
So before you start your trip, pick out your camping sites. If you have access to information at the many state parks and parks in the area, check them out and see if they have anything that fits your needs
WATERPROOF YOUR TENT
The weather can be unpredictable. One minute you might be walking on a beautiful 75-degree sunny day, and the next, it might start pouring rain. That's why preparing for anything while camping or hiking is essential. The best way to do this is to invest in a good tent with an adequate rain cover so you don't get wet or have icky things like mud; thus, it's a good idea to waterproof your tent before heading out on your trip.
Get Latest Camping Equipment for Your Next Camping Trip

Buy Now!
https://tacticaltrading.pk/product-category/camping/camping-accessories/
GO DURING THE WEEK, RATHER THAN THE WEEKEND
If your schedule allows, go camping during the week. Camping sites in Pakistan on any summer weekend are typically jam-packed with people — everyone is looking for a bit of escape from the city. Taking your family camping on a weekday means avoiding the crowds, having a little time to yourself, and feeling like you're rediscovering the great outdoors in peace.
LEAVE THE CAMPSITE AS YOU FOUND IT
To preserve the beauty of the outdoors courtesy means following specific rules. Such as leave-no-trace camping, do not disturb wildlife or plants, and clean up all trash you brought into the outdoors. Be sure to pack out any trash (including your own) before leaving.
The Bottom Line
Camping is a recreational activity where people sleep outdoors in a tent or other shelter. Camping may be combined with hiking, as in backpacking or kayaking. The term "camp" also refers to any place used for temporary residences, such as a summer camp or a trailer park. Camping is a great way to spend the night outdoors, and it can be enjoyed by anybody who can handle walking up to one hundred meters before getting tired. Some camping sites in Pakistan are better than others, and it is vital for people who have never been camping before to research the campsites in Pakistan before they embark on their first trip.
FAQs
1- What kind of camping is the most common?
The most basic and well-known style of camping is tent camping. This entails going to a place where you can set up your tent and spend some nights.
2- What should be avoided when camping?
– Packing too much
– Wearing the wrong clothing
– Not planning properly
– Not considering weather predictions
3- What are some Camping risks?
– Injuries and accidents
– Fire Hazards
– Unexpected wildlife encounter
– Extreme weather